About honey
Did you know that one table spoon of honey can provide you with up to 200 various good and important nutrients?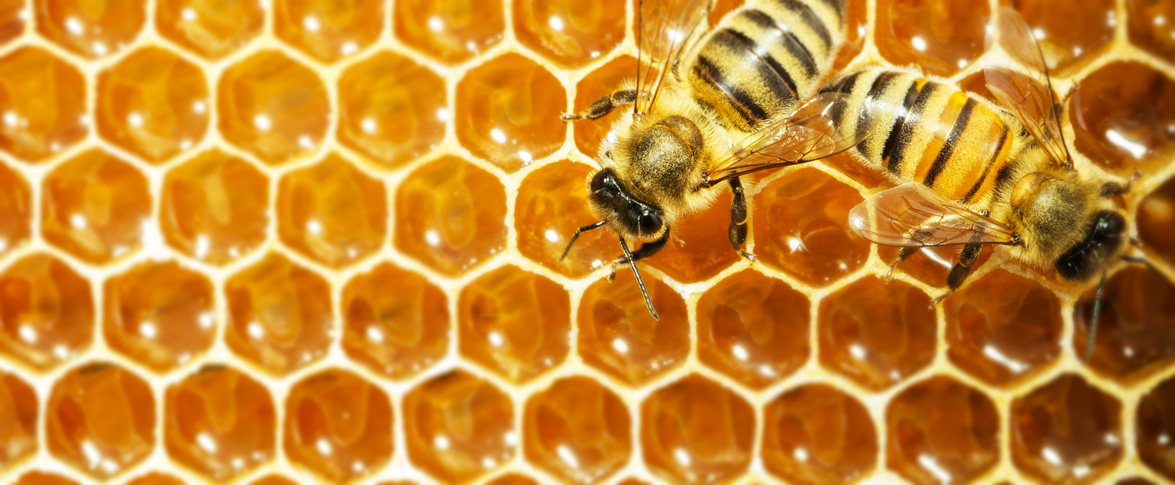 A few interesting facts about honey
Honey has been around for over 150 million years.
Honey is the only food that contains all the substances necessary to sustain life, including enzymes, vitamins, minerals and water. And it is food that also includes pinocembrin, which is an antioxidant associated with better brain function.
Honey was used for embalmment in the ancient world.
Honey comes in various colours – from white to gold to dark brown, sometimes almost black. And if the origin of honeys is natural, they have a similar nutritive value. Darker honeys, like honeydew honey, usually contain more mineral substances.
The western honey bee or European honey bee (Apis mellifera) is a species of honey bee. The genus Apis is Latin for bee and mellifera means honey-bearing. Honeybees are environment-friendly and they are particularly beneficial as pollinators to most plants.
The bee is the only insect that produces human food.
The bee has 6 legs, 5 eyes – two on each side of its head and a third one on top of its head, and two pairs of wings.
The bee has 170 olfactory receptors compared to the fruit fly, which has only 62, and the mosquito, which has only 79. Thanks to its perfect sense of smell the bee can make out hundreds of various of types of pollen, nectar and its exact location. Bees also use their sense of smell to communicate in the beehive.
The bee flaps its wings 200 times per second – the buzzing you hear is this extremely fast movement of its wings.
The average worker bee produces about 9 grams of honey during its lifetime.
To collect 1 kg of honey bees fly a distance equal to four times the distance around the earth.
Honey contains lots of vitamins, minerals, trace elements, enzymes, coenzymes, flavonoids, antioxidants and other bioactive substances. Honey does not contain sucrose (beet sugar). When we use table sugar, our body first has to break it down into fructose and glucose and only then can these monosaccharides be used in the human body. Honey, on the other hand, saves the body such strenuous metabolic splitting.
One of the basic properties of honey is that its compounds strengthen the immune system. Honey is considered to be a valuable natural remedy; it facilitates liver detoxification, it is good for treating respiratory disorders, accelerates the course of an infection and stimulates digestion. These are reasons enough why many of us should use this sweet medicine. Almost everyone knows that a cup of warm milk and honey is an excellent and good medicine. But honey for medical use has a much broader spectrum. Already many thousands of years ago, honey was very popular and it was the most well-known natural health protection medicinal product.
Use of honey
Honey is a versatile product. It is easy to digest and high in energy. Apart from sugars it also contains many valuable nutritive substances. It is usually consumed as is on bakery products or it is added to tea, fruit juices, yoghurt or milk. It is generally known that honey is used for treating coughs, sore throats and colds.
Honey is also used in bakery products. Honey is a part of Czech cuisine by tradition. In the Middle Ages, it was used to sweeten ordinary food as it was the only sweetener available then. Even today, few of us can imagine Christmas baking without honey. Festive cookbooks and family recipes include lots of goodies made out of honey or with a honey filling or coating, like honey cake, for example.
The pharmaceutical industry uses honey as a natural medicine because of its antibacterial properties and because it contains enzymes that soften the skin and make it look more youthful.
The health benefit of honey according to experts
If you have a sore throat, make yourself a hot drink by dissolving two tablespoons of honey and the juice of half a lemon in a cup of hot tea.
All sugary foods – honey included – stimulate the brain to produce so-called endorphins, which are natural substances thought to act as blockers of the transmission of pain.
Bakery products spread with honey and ground cinnamon are good for heart conditions. The thing is that honey and cinnamon reduce cholesterol levels in blood and blood vessels and protect against heart attacks. Honey and cinnamon make blood vessels and veins elastic again.
Honey is also effective in the fight against arthritis – all it takes is one tablespoon of honey per day.
If you suffer from a urinary tract infection, dissolve two tablespoons of honey and a teaspoon of cinnamon in a cup of tea and drink it.
Toothache can be combated by mixing one tablespoon of cinnamon and five tablespoons of honey. Use three times a day and the pain will go away.
To reduce high cholesterol mix two tablespoons of honey and three teaspoons of cinnamon with hot tea.
Honey is also great for treating colds and stomach problems, it cures flatulence, strengthens the immune system and it is beneficial in the case of a heavy stomach or the flu.
Honey can also be used as a treatment for pimples, skin infections and reputedly also weight loss and cancer.
Have you tried our honeys?